My First Book 
Diary of An Adventurous Australian Overseas Traveller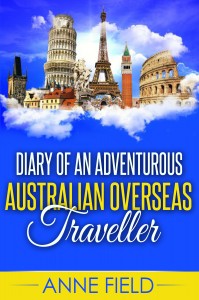 Read about my adventures on my first overseas trip in 1974-1975, and my latest overseas trip in 2013.
I travelled widely, met lots of interesting people, and enjoyed all of my travelling experiences. I left Australia, as an inexperienced 20 year old traveller, and returned home much more knowledgeable and experienced, knowing that I would undertake more travel in the future.
Now, I am taking the opportunity to share with you, my first trip, from forty years ago to Britain, Europe and Scandinavia, along with my more recent trip to the United Kingdom and Hong Kong.
Whilst I typically was a young Australian, who set out to see other countries, my diary shows my ability to pack so much into my travels. My 2013 adventure highlights the fact that I have not lost this attribute.
My Second Book 
Moorefield Racecourse, Kogarah (1888-1951 )
It will be the subject of  history of horse racing in Kogarah.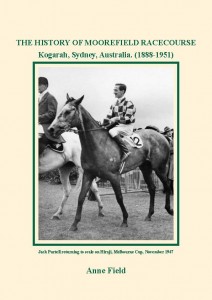 The book includes the following:

The Moore Family; The Layout of The Racecourse; Trainers and Stables, Jockeys; Marshall Street; Kogarah Golf Course; The Sale of The Racecourse; Interesting Anecdotes about Moorefield Racecourse; and a list of all race dates.
Moorefield Racecourse played a significant role in Kogarah's Social History and must be acknowledged and commemorated in a written  history.
please contact Anne: P O BOX 391, Kogarah NSW 2217  email: ko77582@bigpond.net.au
E-book published July 14th 2016
Hard Copy self published October 13th 2016 (Kaligraphic Print Pty Ltd, 381 Parramatta Road Leichhardt, Phone No:(02) 9560-1044)
For additional details on how to obtain my book, please view the Moorefield category on www.annefield.net.au
Facebook site Moorefield Racecourse
I am available to do guest talks on Moorefield Racecourse to community groups.
My Third Book
The Adventures of Miss Hoity Toity and Miss Lizzie
This book will be a children's book and will feature my Cavalier King Charles Spanial, Lizzie.  Miss Hoity Toity and Lizzie will undertake a number of adventures around the local area. I am to working on this during 2017/2018 with a planned launch in mid 2018.
My Fourth Book
My Grannie's Journey from Glasgow to Sydney in 1912
The Video reflects an important part of Australia's immigration history. To commemorate my Grannie's journey from Glasgow, Scotland  to Sydney over 100 years ago, I decided to think outside the square, and to do something different to acknowledge this significant event in my family history.
It is Scottish Homecoming Year in  2014 .  This  acknowledges the role of Scottish immigration around the globe . It is for this reason that I have decided to commit the story to an ebook .
I acknowledged my Grannie's brave journey travelling at 46  degrees south thorough the Southern Ocean, by going 60 nautical miles out to sea, (36 degrees south). At West Cape Howe, which is the most southerly point in Western Australia, I committed my bottle to the Southern Ocean.  My journey took place 100 years to the day Grannie  sailed past Albany, Western Australia. In the bottle I included my Grannie's life story along with some tartan ribbon.
The bottle washed back in at Bremer Bay,  Western Australia in late May 2012,  and was found by a Perth fisherman as flotsam on the beach . My ebook will include original video footage and photos of the committal of the bottle into the Southern Ocean,  the return of the bottle in Perth, and it's recommittal out of Eden. It will also highlight the detailed research, which was undertaken by me to enable these journeys to take place.
I aim to work on this book during 2018.